New CDC Data Shows 4 Percent Rise in Suicides in 2021
On September 30, the Centers for Disease Control and Prevention (CDC) released a new report on provisional data on suicide mortality in 2021. The new data shows a 4 percent increase in the national suicide rate—rising from 13.5 deaths per 100,000 population in 2020 to 14.0 deaths per 100,000 population in 2021. In contrast, the national suicide rate declined in both 2019 and 2020, though it had steadily increased over the previous two decades.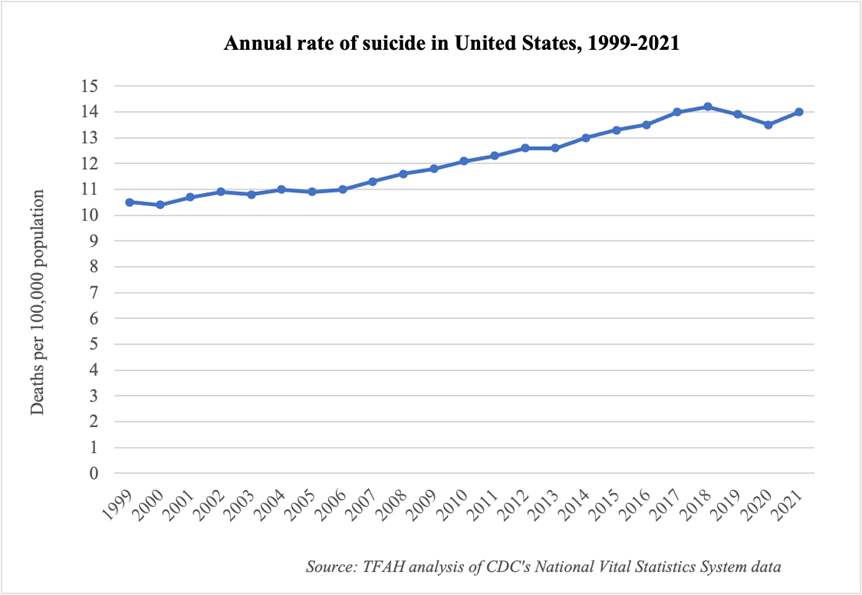 The report also includes additional information on suicide by sex, age group, and month. Key takeaways:
Suicide rates increased more among males (3 percent increase) than females (2 percent increase).
Suicide rates increased for people in nearly all age groups. The only exception was a 2 percent decline for people age 75 and over, though it was not a statistically significant change.
The largest statistically significant increase among all sex/age groups was for males aged 15–24, with an 8 percent increase in suicide rate from 2020 to 2021. Females aged 10–14 had the largest percentage increase in suicide rate (15 percent), though the change was not statistically significant due to a relatively small numbers of cases.
There were more suicides across all months of 2021 compared with 2020, except in January, February, and July. The largest increase across all the months was an 11 percent increase in suicide rate in October.
The report does not include racial/ethnic or geographic information, nor information on suicide method—all critical pieces to understanding the full picture. For example, data from 2020 showed higher rates of  suicide among American Indian, Black, and Latino people and of suicide by firearm—all in a year when the overall suicide rate declined. The National Center for Health Statistics will likely release final 2021 mortality data, including these additional data points, in December.
"The increase in suicide is devastating," said J. Nadine Gracia, M.D., MSCE, President and CEO of Trust for America's Health (TFAH). "The new data underscores the need for more attention on this issue and action to prevent future suicides—by federal policymakers, the private and non-profit sectors, and every community across the nation. This study is a wakeup call that we continue to face a mental health and substance use crisis, but we can prevent these tragic deaths."
The most recent Pain in the Nation report from TFAH includes 2020 data and an analysis of longer-term trends, as well as policy recommendations for reducing alcohol, drug, and suicide deaths. The new CDC report reaffirms the importance of many of these recommendations, including to:
Strengthen the continuum of crisis intervention programs with a focus on the newly established "988" lifeline.
Expand CDC's comprehensive suicide-prevention efforts, including measures to strengthen economic supports, promote connectedness, and create protective environments.
Address the social determinants of health and promote resilience in children, families, and communities, including through economic supports, access to quality childcare, and prevention and early intervention efforts in schools.
Build grassroots community capacity for early identification and intervention for individuals with mental health and substance use disorders, including through community-based or non-traditional settings.
Limit access to lethal means of suicide, including drugs and firearms, among individuals at higher risk of suicide through state and federal laws, more funding of foundational research, and the adoption of counseling programs in healthcare systems.