Staff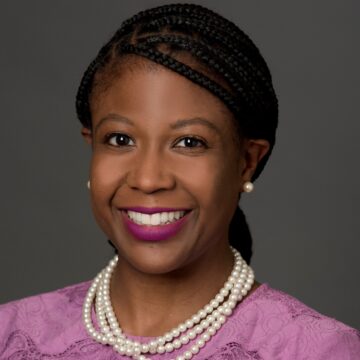 Director of Policy
Breanca Merritt, Ph.D
Breanca Merritt is TFAH's Director of Policy. In that role she leads a portfolio of policy initiatives, convenings, and partnerships designed to develop and support health promoting programs and policies and advance TFAH's policy goals.
Prior to joining TFAH, Merritt was the Chief Health Equity and ADA Officer for Indiana's Family and Social Services Administration (FSSA). In that role, she served as director of FSSA's Office of Healthy Opportunities (OHO), which identifies and addresses social determinants of health through implementing equitable policies and programs for millions of Indiana residents. Prior to joining FSSA, she was the Founding Director of the Center for Research on Inclusion and Social Policy (CRISP) at the Indiana University Public Policy Institute. Her work at CRISP supported nonprofits and state and local government by providing community- and data-informed research for decision making in human services. Before launching CRISP, Merritt was a Senior Research Analyst within the IU Public Policy Institute, served as project manager for the NIH-funded American Indian Diabetes Prevention Center at the University of Oklahoma Health Sciences Center, and as a research associate for the Project for Equity, Representation and Governance.
Merritt has a Ph.D. in Health Promotion Sciences from the Hudson College of Public Health at the University of Oklahoma Health Sciences Center, an M.A. in political science from Texas A&M University, and a B.A. in journalism from the University of Oklahoma.