Alcohol and Drug Misuse and Suicide and the Millennial Generation – A Devastating Impact
Increases in alcohol, drug, and suicide deaths have affected all age groups and all communities, but the impact on people in their 20s and early 30s has been particularly pronounced.
June 13, 2019
Executive Summary
In 2017, more than 152,000 Americans died from alcohol- and drug-induced fatalities and suicide. That's the highest number ever recorded and more than twice as many as in 1999. The largest number of these deaths, almost half, were the result of drug overdoses—more than the peak annual total from HIV, guns, or car crashes. Trust for America's Health and Well Being Trust have called for immediate and sustained attention and investment in a National Resilience Strategy to address this rising death toll.
Increases in alcohol, drug, and suicide deaths have affected all age groups and all communities, but the impact on people in their 20s and early 30s has been especially pronounced. In particular, the number of drug deaths among young adults has increased by 400 percent during the last two decades, in large part fueled by the opioid crisis. Drug deaths accounted for nearly seven deaths per 100,000 people nationally across all age groups in 1999. By 2017, that number increased to 22.7 deaths per 100,000 across all age groups. For young adults ages 18 to 34 in 2017, there were nearly 31 drug-overdose deaths per 100,000 people. Alcohol death rates for young adults ages 18 to 34 went up 69 percent between 2007 and 2017, and suicide deaths for the same age group and same years went up 35 percent.
Research suggests that the United States urgently needs evidence-based policies and programs, including those that are community- or population-specific, to help stem the national tidal wave of deaths of despair. This issue brief is a continuation of Trust for America's Health (TFAH) and Well Being Trust's Pain in the Nation series. It focuses on young adults, ages 20 to 34, often called Millennials. The Pain in the Nation series helps inform and create a comprehensive National Resilience Strategy.
Millennials are generally thought of as people born between 1981 and 1996, making them ages 23 to 38 in 2019. Millennials faced and continue to face a mix of challenges unique to their generation, many of which are discussed in this report, including the opioid crisis, the skyrocketing costs of education and housing, and entering the job market during the great recession.
Often there are differences in age ranges or age groupings in data sets about Millennials. For this reason, multiple data sets, with varying age ranges, were used for this report. For example, data sets covering those 18-25 or 25-34 or 30-35 are included, but the main theme is consistent: alcohol, drugs, and suicide are having a profoundly negative impact on many young adults and their families.
Report Findings
A look at the data tells the story
Since the late 1990s, deaths from alcohol and drug misuse and suicide have been steadily on the rise for all age groups, including the Millennials.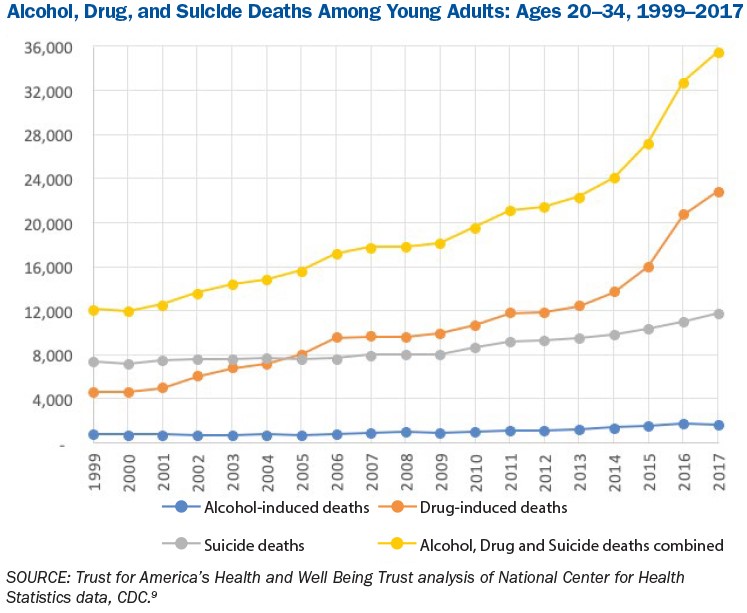 Huge increases in drug-related deaths, especially those involving synthetic opioids
Opioids and the lethality of synthetic opioids have had a deadly impact on 18- to 34-year-olds. Between 1999 and 2017, opioid overdose death rates among 18- to 34-year-olds increased by more than 500 percent. During the same period, the increase in synthetic opioid death rates among young adults increased by a staggering 6,000 percent.
Within a one-year period (2016–2017), double- and triple-digit percent increases in synthetic opioid deaths occurred for both sexes, all races and ethnicities, and in all regions of the country.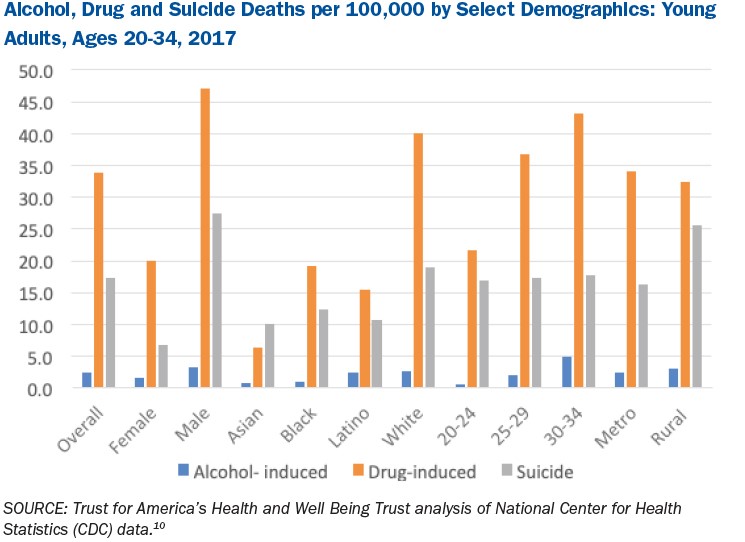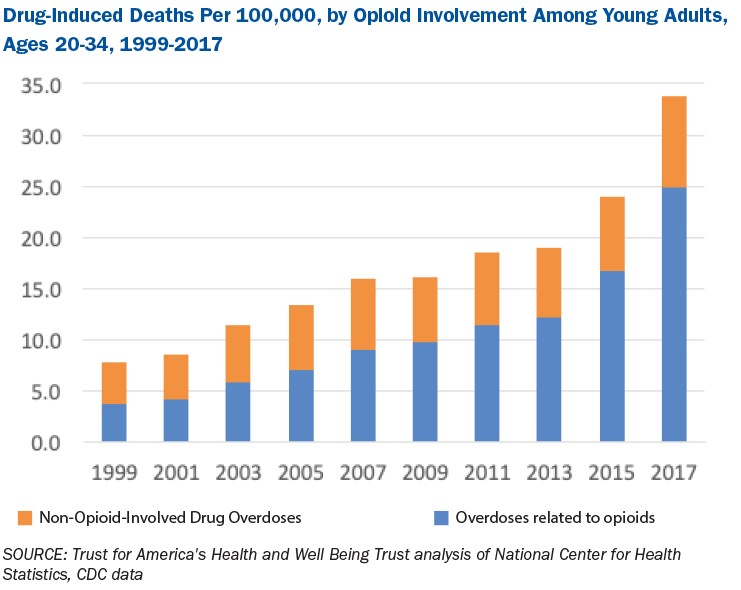 Suicide rates are up
Young adults experienced larger proportional increases in suicide deaths when compared with other age groups, except, alarmingly, children and adolescents. Between 2016 and 2017, suicide rates increased by 4 percent across all age categories, the largest annual increase since at least 1999, when the dataset begins.
Over the past decade, suicide increased in nearly every state, but there were substantial variations by demographic group. For 18- to 34-year-olds, there was a 25 percent increase in suicide deaths over the past decade.
Between 2011 and 2016, suicide was the second leading cause of death for 15- to 24-year-olds and 25- to 34-year-olds. In 2017, suicide was one of the highest causes of death, second only to unintentional injury, for people ages 15 to 34.
Between 2000 and 2016, the most common means of suicide for men were firearms. A 2017 Pew Research Center survey found that 43 percent of 18- to 29-year-olds either personally owned a firearm or lived with someone who did. For women, the most common method was poisoning or overdose.
More males die by suicide than females. Between 2008 and 2017, the age-adjusted suicide death rate increased from 11.6 per 100,000 to 14 per 100,000. Among males, the increase was from 19 per 100,000 to 22.4 per 100,000. Among females, the rate increased from 4.8 per 100,000 in 2008 to 6.1 per 100,000 in 2017.
According to a 2018 review of the National Survey of Drug Use and Health, serious psychological distress during the last month and suicide-related outcomes (including suicide ideation, plan, attempts, and deaths) are increasing sharply. Between 2008 and 2017, that distress increased by 71 percent among young adults ages 18 to 25. The survey found less consistent and weaker increases among adults ages 26 and over.
Alcohol-related deaths down for current year but up sharply over two decades
In 2017, alcohol-induced deaths were down by 4 percent but are up sharply since 1999. During the last two decades, people in their 20s and 30s have experienced the largest proportional increases in alcohol-induced deaths compared with other age groups. The rate of alcohol-induced deaths doubled for 18- to 34-year-olds between 1999 and 2017.
Between 2007 and 2017, there was a 69 percent increase in the number of alcohol deaths among people ages 18 to 34. During the same period, the increase in alcohol deaths for people ages 35 to 54 was 22 percent, and for people 55 to 74, it was 45 percent.
Among all age groups, about 88,000 people die of alcohol-attributable causes per year (including injury deaths, like car crashes, where excessive alcohol consumption is a contributing factor), making excessive alcohol consumption the third leading cause of preventable death in the United States today.
Why focus on the Millennial generation?
Millennials comprise more than one-third of the nation's workforce and they are the largest portion of Americans serving in the military. They continue to face a mix of challenges unique to their generation including the opioid crisis, beginning and growing their careers during the great recession and the high costs of education and housing.
Of households headed by someone younger than 35, 40 percent have outstanding student-loan debt. Young people with college debt typically spend close to half of their income on loan payments. Financial stress is a known risk factor for suicide.
The cost of healthcare is an additional stressor for most Americans, including young adults, and can cause people not to seek care in a timely manner. Approximately one-quarter of Millennials do not have health insurance.
Many Millennials lack forms of social capital that have historically assisted young generations, such as the sense of community offered in a place of worship. Compared with their grandparents' generation, Millennials are less likely to be connected to major societal institutions such as political parties or religion.
Another critical element of the report's focus on Millennials is the fact that many are parents of young children; if they misuse alcohol or drugs or have poor mental health those behaviors are likely to have serious impacts on multiple generations of their family.
Young adults are dying due to substance use disorders and suicide at alarmingly high rates. We must find solutions that meet their needs.
What needs to be done?
The report focuses on five issue areas that must be considered in any efforts to stem the tide of deaths of despair among young adults. They are:
Prioritize childhood risk and protective factors and emphasize prevention in the developmental years in order to put today's children on a pathway that will allow them to become thriving adults.
Ensure access to mental health and substance misuse treatment services.
Address health inequities.
Recognize the multigenerational impact of alcohol and drug misuse and suicide.
Improve substance use disorders treatment within the criminal justice system.
Recommendations for Policy Action
New and specific interventions aimed at reducing these deaths of despair amongst young adults are critically needed, including these 10:
Ensuring behavioral healthcare, including screenings, are a routine part of primary care and that everyone has access to such care. Care must be culturally competent.
Barriers to treatment like the lack of providers in rural areas or the need for more residential treatment programs for pregnant and postpartum women should be addressed by growing the Federal Behavioral Workforce Education Program, greater use of telemedicine and increasing student loan repayment programs for practitioners working in underserved areas.
Behavioral health screening and referral services should be readily available at all colleges, universities, technical training facilities and reproductive health clinics.
Health insurance and Medicaid coverage for medication-based treatments for substance misuse disorders should be increased.
Wider implementation of suicide prevention programs, such as the Zero Suicide Initiative, is needed throughout the healthcare system. All hospitals should ensure that any patient in crisis is connected with behavioral health services in a timely manner.
States and localities should use pricing strategies to limit the consumption of alcohol by adolescents and young adults.
Federal and state governments should prioritize the implementation of the Family First Prevention Services Act to support prevention services for families in crisis and to reduce foster care placements.
Hospitals and birthing centers should screen new mothers for substance misuse disorders at delivery.
Drug and mental health courts should be created in all states and federal districts. When appropriate, people with substance misuse disorders should receive mandatory treatment as part of their incarceration and be connected to in-community treatment services upon their release.
Transition programs to assist veterans returning to civilian life should be readily available.