State of Obesity 2023: Better Policies for a Healthier America
This 2023 version is the 20th annual report on the antecedents and rates of obesity in the U.S. as well as policy solutions. Since TFAH first published the State of Obesity report in 2004, rates of adult and child and adolescent obesity are up sharply, particularly in communities experiencing barriers to healthy eating and few opportunities for physical activity.
(Washington, DC – September 21, 2023) – Over the past two decades obesity rates have climbed for all population groups with certain populations of color experiencing the highest rates, often due to structural barriers to healthy eating and a lack of opportunities and places to be physically active. Nationally, 41.9 percent of adults have obesity. Black and Latino adults have the highest obesity rates at 49.9 percent and 45.6 percent respectively.  People living in rural communities have higher rates of obesity than people living in urban and suburban areas.
Obesity rates are also increasing among children and adolescents with nearly 20 percent of U.S. children ages 2 to 19 having obesity according to 2017–2020 NHANES data. These rates have more than tripled since the mid-1970s, and Black and Latino youth have substantially higher rates of obesity than do their white peers.
According to TFAH's analysis of the latest data from the Centers for Disease Control and Prevention's (CDC) Behavioral Risk Factor Surveillance System, in 2022, 22 states had an adult obesity rate at or above 35 percent, up from 19 states the prior year. A decade ago, no state had an adult obesity rate at or above the 35 percent level.
West Virginia (41%), Louisiana (40.1%), Oklahoma (40.0%), and Mississippi (39.5%) have the highest rates of adult obesity. The District of Columbia (24.3%), Colorado (25.0%), and Hawaii (25.9%) have the lowest adult obesity rates. (State-by-state rates 2021 v. 2022).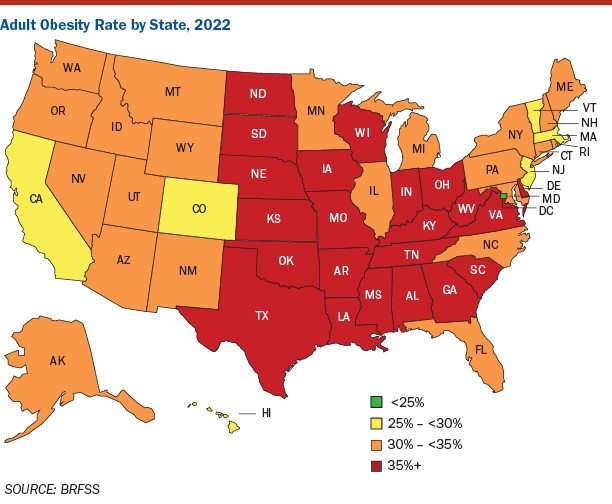 Increased Investment in Obesity Prevention is Needed
Since TFAH's initial report, published in 2004, the national adult obesity rate has increased by 37 percent and the national youth obesity rate increased by 42 percent. The widespread increases show that obesity is a society-wide, population-level issue, i.e., one rooted in societal and environmental factors that are often beyond individual choice. Solving the nation's obesity crisis will require addressing the economic and structural factors that impact where people live and their access to employment, transportation, healthcare, affordable and healthy food, and places to be physically active.
Over the past 20 years, important strides have been made in understanding that obesity is a disease and how to prevent it, including the role that social determinants of health and health inequities play in driving obesity rates. Many obesity-related policies and programs that have been implemented, such as increased access to and benefits within nutrition support programs, have a proven record of success but need increased investment to reach more people and communities.
"It's critical to recognize that obesity is a multifactored disease involving much more than individual behavior," says J. Nadine Gracia, M.D., MSCE, President and CEO of Trust for America's Health.  "In order to stem the decades long trend of increasing obesity rates we have to acknowledge that the obesity crisis is rooted in economic, health, and environmental inequities.  Ensuring all people and communities have equitable opportunity and access to healthy food and physical activity is fundamental to addressing this crisis."
Addressing obesity is critical because it is associated with a range of diseases, including type 2 diabetes, heart disease, stroke, arthritis, sleep apnea, and some cancers. Obesity is estimated to increase U.S. healthcare spending by $170 billion annually (including billions by Medicare and Medicaid).
Recommended Policy Steps to Address the Obesity Crisis
The report includes recommendations for policy actions that should be taken by federal, state, and local officials and other stakeholders include:
Fully fund CDC's proven chronic disease and obesity prevention programs so they reach every state.
Make healthy school meals available for all students and increase access to Supplemental Nutrition Assistance Program (SNAP) and other nutrition support programs.
Implement a mandatory front-of-package labeling system on food packaging to help consumers make informed choices.
Close tax loopholes and eliminate business-cost deductions for advertising unhealthy food to children.
Make physical activity and the built environment safer and more accessible for everyone, including by increasing federal education funding for health and physical education and investing in active transportation projects like pedestrian and bike paths.
Increase access to health insurance through expanding Medicaid, making marketplace insurance more affordable, and expanding healthcare screenings for social needs.