AFPHS Recognition Program
Through its Age-Friendly Public Health Systems (AFPHS) initiative, Trust for America's Health (TFAH) prioritizes the public health roles in healthy aging and encourages all state and local public health departments to make healthy aging a core function. To further incentivize this transition, TFAH developed an AFPHS Recognition Program based on the 6Cs Framework for Creating Age-Friendly Public Health Systems and corresponding actions that, if achieved, will reflect a health department's commitment to healthy aging. This revised version of the original Recognition Program is designed to honor all levels of engagement by public health professionals in advancing healthy aging. TFAH will offer one-on-one technical assistance to further build the capacity of state and local health departments to become age-friendly.
The new Program offers opportunities for recognition at three levels: AFPHS Champion (individual); AFPHS Recognition (departmental); and AFPHS Advanced (also departmental).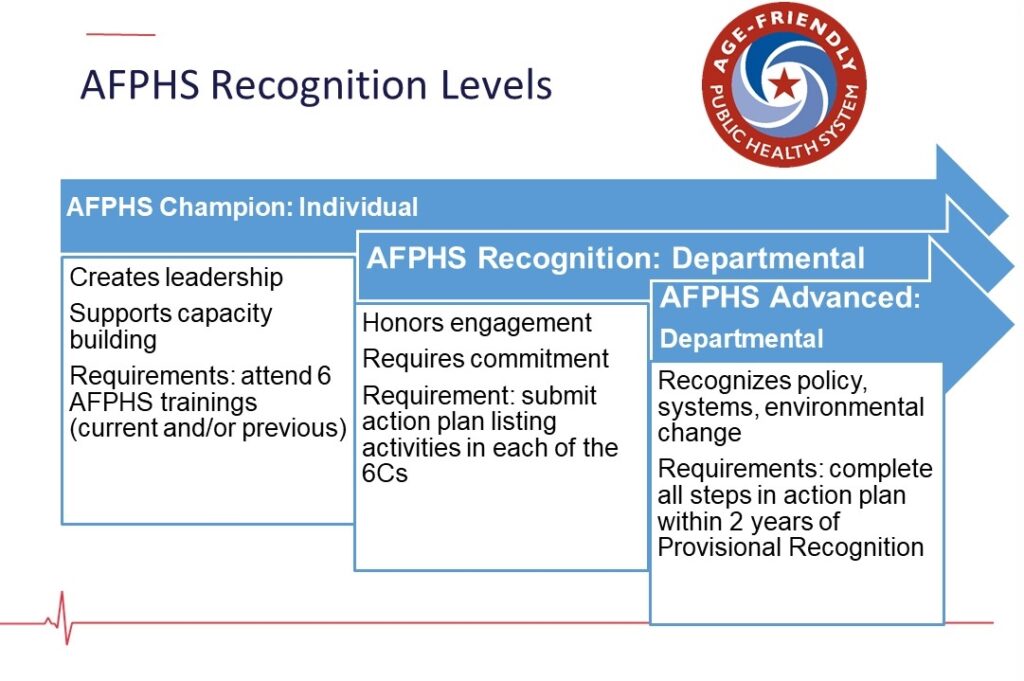 Program Benefits:
Recognition in the AFPHS newsletter and on the AFPHS website
Certificate and virtual badge that can be used on websites, email signatures, department resources, and social media
Opportunity to leverage recognition with potential partners and funders, and
Demonstrates commitment to more fully achieve the department's mission of serving the population throughout the life course.
AFPHS Champion: The first step toward embedding and sustaining new practices is to build the capacity of public health professionals to become leaders in healthy aging through training and professional development. Thus, TFAH is creating an "AFPHS Champion" designation to recognize public health professionals who have committed to building their own knowledge and expertise and have a desire to lead their departments in becoming age-friendly. Requirements:
Attend at least six AFPHS Training sessions
May include those trainings that have been previously recorded
At least one of the sessions must be on ageism.
Becoming an AFPHS Champion will also meet the first requirement for health department Recognition.
AFPHS Recognition: Foundational changes in policies and practice that address the social determinants of health should be based on the unique needs of a community or state. The revised requirements of the AFPHS Recognition Program are designed to provide flexibility within a set of meaningful age-friendly tenets—the 6Cs of an AFPHS.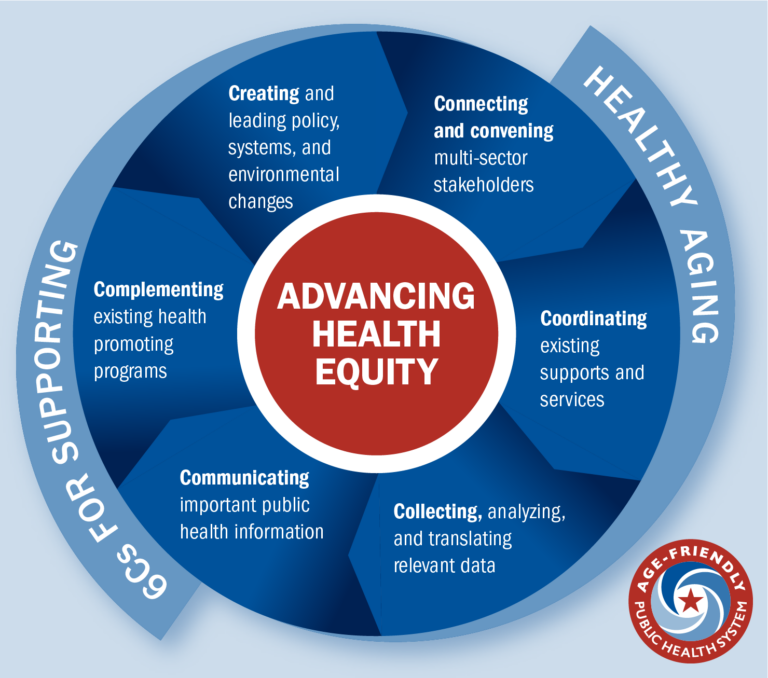 Requirements:
Complete and return to the AFPHS team an action plan that outlines at least one activity within each of the 6Cs.
Note as above, becoming an AFPHS Champion will meet the action plan requirement for the first of the 6Cs, "Creating and leading policy, systems, and environmental changes."
Additional guidance is available here that includes examples of activities that align with the 6C's.
AFPHS Advanced: Completing at least one activity in each of the 6Cs elevates recognition to the Advanced level. Health departments should notify the AFPHS team upon completion, with some evidence of completion as outlined in the examples database. To be recognized as AFPHS Advanced, activities must be completed within two (2) years of initial recognition. Health departments that completed the 10 steps of the original Recognition Program will be designated as AFPHS Exemplars.