Produce Rx: Using Prescriptions to Improve Affordability of Healthy Foods
Healthy eating among families and communities promotes optimal health and well-being. However, approximately three-fourths of Americans do not consume the recommended amounts of healthy foods, such as fruits and vegetables, set by the 2015-2020 Dietary Guidelines for Americans.
A healthy daily diet is linked to reduced risk for obesity, diabetes, hypertension, and other preventable chronic illnesses. But, despite efforts to promote healthy eating, communities across the U.S. continue to face barriers to accessing healthy foods.
Produce Rx
In 2012, DC Greens, a food justice non-profit located in Washington, DC, launched a pilot program called Produce Rx which began as a small-scale partnership between health care clinics and local farmer's markets. The vision, like that of similar efforts across the country, was to increase patients' access to fresh produce and empower them to make healthier food choices in order to manage and improve their health.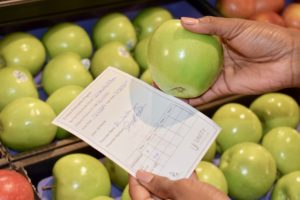 As part of the program, patients facing food insecurity and living with diet-related chronic disease enrolled in a six-month group nutrition class at a local health clinic, where they received monthly nutrition education and seasonal recipe demonstrations and had a check-in with a healthcare provider. Additionally, they received a "prescription" in the form of a voucher from the healthcare provider to purchase fresh produce from their local farmer's market.
Community members who participated in the Produce Rx program showed significant improvements in health outcomes, such as lower BMI among 50 percent of the participants. In addition, 85 percent of the program participants reported improved patient-provider relationships.
Expansion and Growth
In March 2019, DC Greens, with funding support from the DC Department of Health and AmeriHealth Caritas, the largest Medicaid managed care organization in the District with more than 100,000 members, established a new partnership with Giant Food – the only grocery store located in D.C.'s Ward 8. The Ward 8 neighborhood has some of the highest income, educational, health, and racial and ethnic disparities among all of the District's 8 wards – creating an opportunity to support D.C. residents with the greatest need through a new expanded model of the Produce Rx program.
D.C.'s Ward 8 is known as a "food desert" due to the limited number of retailers selling fresh, affordable produce, and the fact that the community faces disproportionate rates of people with diet-related chronic conditions. Moreover, Ward 8 has the highest rates of death due to diabetes and heart disease within the city.
"There is a myth that people living in poverty don't want healthy food. We know this isn't true," says Lauren Shweder Biel, Executive Director of DC Greens. "people simply lack the resources to get the healthy foods that they want and that they need. With Produce Rx, we've been able to give patients a way to follow their doctors' medical advice."
"Giant Food is excited about the positive impact the Produce Rx program has had at our Alabama Avenue store," said Ira Kress, interim President at Giant Food. " As a food retailer, with roots in Washington, D.C. dating back 83 years, we recognize the important role we can play in the access to healthy foods and health education in our community, and this program has been a natural fit."
With the new partnership Produce Rx participants will have access to fresh fruit and vegetables year-round. The program will expand its services to 500 AmeriHealth Medicaid participants who will receive a $20 voucher every week to purchase produce at their neighborhood Giant.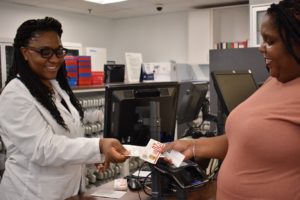 "AmeriHealth Caritas DC is committed to helping our members, especially those with chronic health conditions, improve their overall health by adding more fruits and vegetables to their daily diet," said Keith Maccannon, Director of Community Relations and Outreach at AmeriHealth Caritas DC. "Collaboration with community-based organizations and businesses like DC Greens and Giant Food are a key component of our strategy in this area."
Participants in this program will also have access to personal-level nutrition education at their health clinic and through Giant's in-store nutritionist and AmeriHealth's nutrition and wellness programs.
"Pairing nutrition education with produce access is essential for helping our customers unlock the power of produce," said Jillian Griffith, Giant Food in-store nutritionist. "It is one thing to be instructed by a medical provider to eat more fruits and vegetables, but it's another to have an in-store nutritionist available to share plant-based recipe ideas or new produce pairings for traditional family favorites. I am so grateful for the opportunity to teach Produce Rx participants the role food plays in their overall health while empowering them with the "produce tools" needed to meet dietary recommendations."
Through these services, Produce Rx is making healthy food options more affordable and accessible for both individuals and their families.
"The program has impacted me and my family because we found we are eating healthier, losing more weight, and needing less medication than we used to," said Adrienne Dove, a participant in the program. "I count my spending to make sure I don't go over on food, but now I can buy healthier options, like spinach and broccoli, that my son wants to try, from the grocery store right around the corner."
Next Steps
This next iteration of Produce Rx will run for a year, allowing DC Greens to conduct a robust evaluation of its effectiveness by measuring key behavior changes, health outcomes, and tracking health care costs among program participants. Currently, DC Greens administers Produce Rx but with this evaluation they hope to build the case for scalable and sustainable investments in these programs by the healthcare system.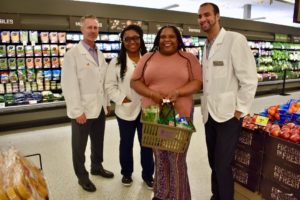 "We are working to integrate 'food as medicine' as a key component of clinical care, but we know that the only way to truly scale a program like this is to prove a return on investment for the healthcare system," says Biel. "With AmeriHealth Caritas and DC Health at our side, we believe this program is poised to demonstrate the impact that 'food as medicine' can have on individual health and patient utilization of the healthcare system."
More Investment in Policies and Programs to Support Food Access and Healthy Choices is Needed
Continued investments in local, state, and federal policies and programs are critical for improving nutrition and health, especially among low-income and underserved communities that face limited access to affordable, fresh produce. More research is needed to definitively demonstrate the impact that DC Greens Produce Rx and other innovative programs are having on health and healthcare services usage. But the preliminary findings are promising.
"With the obesity crisis getting worse, we need to have a comprehensive and multi-faceted approach to changing the conditions that make it difficult for people to eat a healthful diet. Such an approach includes initiatives like DC Produce Rx with its focus on reducing the financial barriers to accessing healthy foods as well as providing culturally and linguistically tailored educational information," said John Auerbach, President and CEO of Trust for America's Health.
From community-based programs that test new strategies like Produce Rx to federal programs such as the Supplemental Nutrition Assistance Program for Woman, Infants, and Children (WIC) access to nutritious, affordable foods can help communities live healthier lives. As the nation experiences growing rates of obesity and other chronic diseases, it's important for policymakers to continue supporting innovative solutions that address the root causes of preventable disease.