Pain in the Nation 2023: The Epidemics of Alcohol, Drug, and Suicide Deaths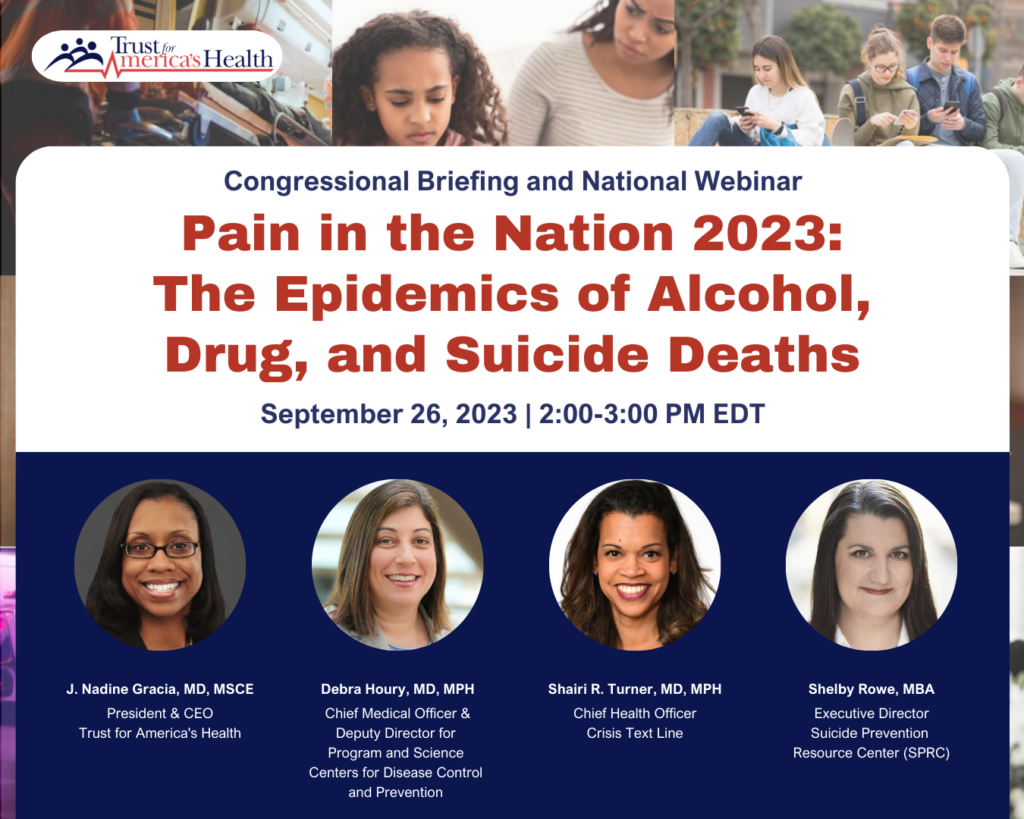 September 26, 2023 • 2:00 PM ET • Webinar
Trust for America's Health (TFAH)  will host a Congressional briefing, national webinar on our recently released report, Pain in the Nation 2023: The Epidemics of Alcohol, Drug, and Suicide Deaths.
TFAH's Pain in the Nation 2023 report found that the death rate due to alcohol, drugs, and suicide increased by 11 percent in 2021. Deaths due to substance misuse and suicide have been rising in the U.S. for over two decades, with numbers doubling from 104,379 deaths in 2011 to 209,225 in 2021. The increase in 2021 death rates occurred among all ages, races, and geographic groups, but TFAH's report found that increases were particularly high for youth suicides and drug overdoses among certain populations of color and in rural regions of the country.
The briefing will include time for Q&A from the audience.
Resources:
Trust for America's Health
Crisis Text Line
Panelists
Debra Houry

Debra Houry, MD, MPH, is the Chief Medical Officer and Deputy Director for Program and Science at CDC. Most recently, she served as CDC's Acting Principal Deputy Director and prior to that Dr. Houry served for over 7 years as the Director of the National Center for Injury Prevention and Control.

Shairi Turner

Shairi R. Turner MD, MPH, is an internist and pediatrician with expertise in trauma-informed practices. She originally joined Crisis Text Line as the Chief Medical Officer leading the Crisis Supervision Team (2017-2019) and returned in 2020 as Chief Transformation Officer.

Shelby Rowe

Shelby Rowe is executive director of the Suicide Prevention Resource Center (SPRC) at the University of Oklahoma Health Sciences Center, the only federally supported resource center devoted to advancing the implementation of the National Strategy for Suicide Prevention.
Moderator
Dr. J. Nadine Gracia

Dr. J. Nadine Gracia is the President and CEO of Trust for America's Health, a nonprofit, nonpartisan public health policy, research and advocacy organization that promotes optimal health for every person and community.